Credit Score Needed to Buy a House and get a Kentucky Mortgage Loan.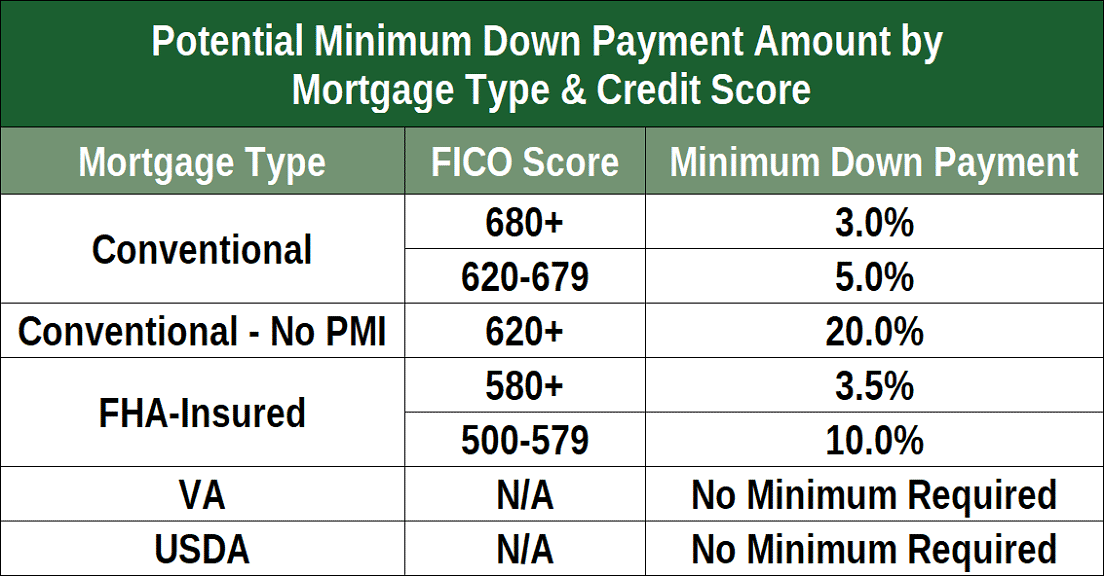 When applying for a Kentucky mortgage loan, lenders will pull what they call a "tri-merge" credit report which will show three different fico scores from Trans union, Equifax, and Experian. The lenders will throw out the high and low score and take the "middle score" For example, if you had a 614, 610, and 629 score from the three main credit bureaus, your qualifying score would be 614. Most lenders will want at least two scores. So if you only have one score, you may not qualify. Lenders will have to pull their own credit report and scores so if you had it ran somewhere else or saw it on a website or credit card you may own, it will not matter to the lender, because they have to use their own credit report and scores.
Most Kentucky Mortgage lenders will pull your credit report for free nowadays so this should not be a big deal as long as your scores are high enough.
The Secondary Market of Kentucky Mortgage loans offered by FHA, VA, USDA, Fannie Mae, and KHC all have their minimum fico score requirements and lenders will create overlays in addition to what the Government agencies will accept, so even if on paper FHA says they will go down to 580 or 500 in some cases on fico scores, very few lenders will go below the 580 threshold.
If you have low fico scores it may make sense to check around with different lenders to see what their minimum fico scores are for loans.
The lenders I currently deal with have the following fico cutoffs for credit scores:
Credit Score Minimums for FHA, VA, USDA and Fannie Mae Loans in Kentucky
Kentucky FHA Credit Score Requirements-

-500 minimum score****I
f below 580, will need 10% down payment. Most lenders will not go below 620.
Kentucky VA Loan Credit Score Requirements ---

-500 minimum score***
most lenders will not go below 620 but I have closed some below 620 range. Just depends on Automated Underwriting recommendation
Kentucky Conventional Fannie Mae Credit Score Requirements--620 minimum score**
no exceptions here
Kentucky Rural Housing USDA Credit Score Requirements-

-580 minimum score***
640 score is used by most lenders due to GUS underwriting system used automated for credit scoring
KHC or Kentucky Housing with Down Payment Assistance Credit Score Requirements
--620 minimum score***. Will not go below this score
As you can see, 620 is the minimum score with most lenders for a FHA, VA, or Fannie Mae loan, and 620 is required for the no down payment programs offered by USDA and KHC in Kentucky for Kentucky First Time Home Buyers wanting to go no money down.

Do FICO scores change that much over time?
In general, FICO® scores do not change that much over time. But it's important to note that your FICO score is calculated each time it's requested; either by you or a lender. And each time it's calculated it's taking into consideration the information that is on your credit report at that time. So, as the information on your credit report changes, your FICO score can also change.
How much your FICO score changes from time to time is driven by a variety of factors such as:
Your current credit profile – how you have managed your credit to date will affect how a particular action may impact your score. For example, new information on your credit report, such as opening a new credit account, is more likely to have a larger impact for someone with a limited credit history as compared to someone with a very full credit history.
The change being reported – the "degree" of change being reported will have an impact. For example, if someone who usually pays bills on-time continues to do so (a positive action) then there will likely be only a small impact on their score one month later. On the other hand, if this same person files for bankruptcy or misses a payment, then there will most likely be a substantial impact on their score one month later.
How quickly information is updated – there is sometimes a lag between when you perform an action (like paying off your credit card balance in full) and when it is reported by the creditor to the credit bureau. It's only when the credit bureau has the updated information that it will have an affect on your FICO score.
Keep in mind:
Small changes in your score can be important if you're looking to obtain a certain FICO score level or if you are striving to reach a certain lender's FICO score "cutoff" (the point above which a lender would accept a new application for credit, but below which, the credit application would be denied).
Why can't I see my credit report and FICO score update daily?
Your credit report and the associated FICO score do change regularly, but rarely on a daily basis. Lenders typically report updated account information to the credit bureaus every month, which may or may not result in a change to your FICO score. In a given three-month time period, only about one in four people has a 20-point change in their FICO score, so it's not that helpful to check your report and score on a daily basis. You can certainly purchase reports daily, but more often than not you will not see changes on a daily basis.
If you are interested in monitoring your credit report and FICO score for significant changes Score Watch may be a good fit for your needs. Score Watch monitors your Equifax credit report on a daily basis and sendsservice alerts via email or to your cell phone notifying you of relevant changes to your Equifax credit report and/or FICO score.
To learn more about Score Watch,
click here
.

How long will negative information remain on my credit report?
It depends on the type of negative information. Here's the basic breakdown of how long different types of negative information will remain on your credit report:
Late payments: 7 years
Bankruptcies: 7 years for completed Chapter 13 bankruptcies and 10 years for Chapter 7 bankruptcies.
Foreclosures: 7 years
Collections: Generally, about 7 years, depending on the age of the debt being collected.
Public Record: Generally 7 years, although unpaid tax liens can remain indefinitely.
Keep in mind:
For all of these negative items, the older they are the less impact they are going to have on your FICO® score. For example, a collection that is 5 years old will hurt much less than a collection that is 5 months old.
Resources for this article are below:
Joel Lobb (NMLS#57916)
Senior Loan Officer
Text/call 502-905-3708
American Mortgage Solutions, Inc.
10602 Timberwood Circle Suite 3
Louisville, KY 40223
Company ID #1364 | MB73346
If you are an individual with disabilities who needs accommodation, or you are having difficulty using our website to apply for a loan, please contact us at 502-905-3708.
Disclaimer: No statement on this site is a commitment to make a loan. Loans are subject to borrower qualifications, including income, property evaluation, sufficient equity in the home to meet Loan-to-Value requirements, and final credit approval. Approvals are subject to underwriting guidelines, interest rates, and program guidelines and are subject to change without notice based on applicant's eligibility and market conditions. Refinancing an existing loan may result in total finance charges being higher over the life of a loan. Reduction in payments may reflect a longer loan term. Terms of any loan may be subject to payment of points and fees by the applicant




Equal Opportunity Lender. NMLS#57916

http://www.nmlsconsumeraccess.org/