What is the minimum Credit Score Needed to Buy a House and get a Kentucky Mortgage Loan?
What kind of credit score do I need for a Mortgage Loan Approval in Kentucky in 2019?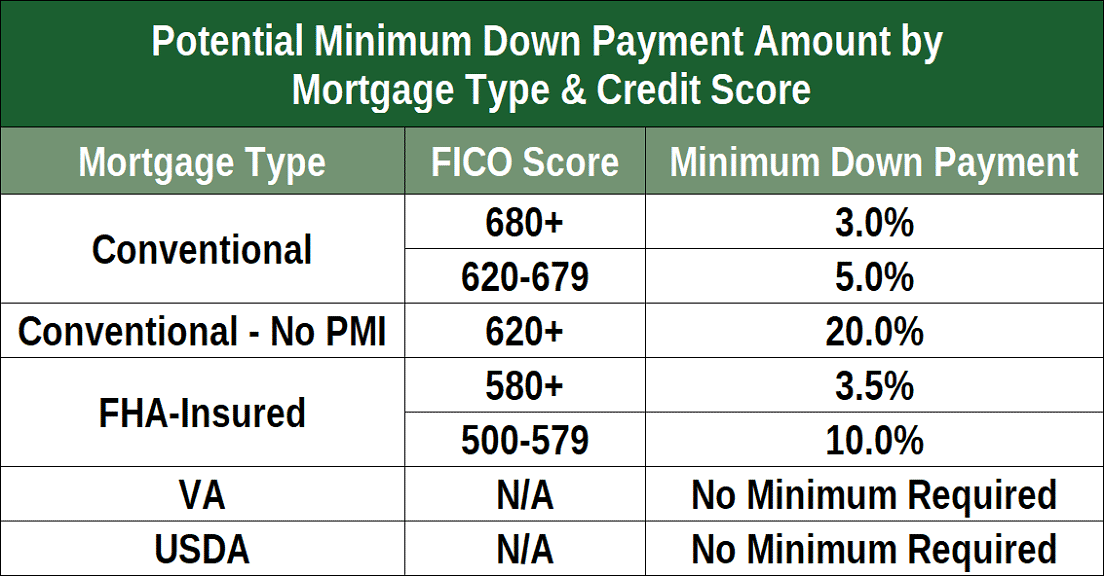 When applying for a Kentucky mortgage loan, lenders will pull what they call a "tri-merge" credit report which will show three different fico scores from Transunion, Equifax, and Experian. The lenders will throw out the high and low score and take the "middle score" For example, if you had a 614, 610, and 629 score from the three main credit bureaus, your qualifying score would be 614. Most lenders will want at least two scores. So if you only have one score, you may not qualify. Lenders will have to pull their own credit report and scores so if you had it ran somewhere else or saw it on a website or credit card you may own, it will not matter to the lender, because they have to use their own credit report and scores.
Most Kentucky Mortgage lenders will pull your credit report for free nowadays so this should not be a big deal as long as your scores are high enough.
The Secondary Market of Kentucky Mortgage loans offered by FHA, VA, USDA, Fannie Mae, and KHC all have their minimum fico score requirements and lenders will create overlays in addition to what the Government agencies will accept, so even if on paper FHA says they will go down to 580 or 500 in some cases on fico scores, very few lenders will go below the 580 threshold.
If you have low fico scores it may make sense to check around with different lenders to see what their minimum fico scores are for loans.
The lenders I currently deal with have the following fico cutoffs for credit scores:
Kentucky FHA Credit Score Requirements--500 minimum score****If below 580, will need 10% down payment. Most lenders will not go below 620.
Kentucky VA Loan Credit Score Requirements ----500 minimum score***most lenders will not go below 620 but I have closed some below 620 range. Just depends on Automated Underwriting recommendation
Kentucky Conventional Fannie Mae Credit Score Requirements--620 minimum score**no exceptions here
Kentucky
Rural Housing USDA Credit Score Requirements--580 minimum score***
640 score is used by most lenders due to GUS underwriting system used automated for credit scoring
KHC or Kentucky Housing with Down Payment Assistance Credit Score Requirements --620 minimum score***. Will not go below this score
As you can see, 620 is the minimum score with most lenders for a FHA, VA, or Fannie Mae loan, and 620 is required for the no down payment programs offered by USDA and KHC in Kentucky for Kentucky First Time Home Buyers wanting to go no money down.
http://kentuckyfirsttimehomebuyer.blogspot.com/2016/08/four-things-to-know-about-qualifying.html
Fannie Mae
According to the "Washington Post," Fannie Mae raised its minimum credit score for conventional loans in 2009 from 580 to 620. Even if you have a 20-percent down payment, you can be rejected if your score is below 620. Fannie Mae will also reject a loan if more than 45 percent of your income goes toward paying debt.
Government-Backed Loans
Kentucky FHA Mortgage Loans recently changed its minimum credit score to 500 with 10 minimum% down payment , and 580 or higher score which qualifies you for lending programs that require only a 3.5 minimum percent down payment.
Kentucky VA loans are 100-percent financed and set aside for active and retired military, along with their families. There is no minimum credit score to qualify, though a better credit score will get you a better interest rate. Typically to get approved on A Kentucky VA loan,

you will need a 580 mid score

with no bankruptcies or foreclosures in last 2 years with clean credit since BK or Foreclosures.
The better your score, the better your interest rate is likely to be.
If your score is between 620 and 639—considered a risky score by some creditors—

you could pay an interest rate of 5.718 percent on a $300,000, 30-year conventional mortgage. As of mid-August, 2010, If

your score is at the high end, 760 to 850,

your interest rate could be 4.129 percent on the same loan. A score of 650 may net you a rate of 5.172 percent.
USDA Home
Loan
Debt Ratio Waivers will be considered when the borrower has a
middle credit score of 640 or higher, and the co-borrower has a credit score of at least 640.
If borrowers have credit scores of 640 or below,
additional compensating factors will need to be documented for the
Kentucky USDA Home Loan Underwriters.
What are the minimum requirements for a FICO score?
There's really not much to it; in order for a FICO® score to be calculated, a credit report must contain these minimum requirements:
At least one account that has been open for six months or more
At least one undisputed account that has been reported to the credit bureau with in the past six months
No indication of deceased on the credit report (Please note: if you share an account with another person this may affect you if the other account holder is reported deceased
What's in your FICO® score
FICO Scores are calculated from a lot of different credit data in your credit report. This data can be grouped into five categories as outlined below. The percentages in the chart reflect how important each of the categories is in determining your FICO score.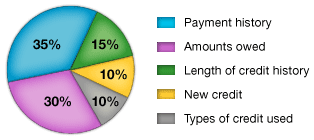 These percentages are based on the importance of the five categories for the general population. For particular groups - for example, people who have not been using credit long - the importance of these categories may be somewhat different.
Payment History
Account payment information on specific types of accounts (credit cards, retail accounts, installment loans, finance company accounts, mortgage, etc.)
Presence of adverse public records (bankruptcy, judgements, suits, liens, wage attachments, etc.), collection items, and/or delinquency (past due items)
Severity of delinquency (how long past due)
Amount past due on delinquent accounts or collection items
Time since (recency of) past due items (delinquency), adverse public records (if any), or collection items (if any)
Number of past due items on file
Number of accounts paid as agreed
Amounts Owed
Amount owing on accounts
Amount owing on specific types of accounts
Lack of a specific type of balance, in some cases
Number of accounts with balances
Proportion of credit lines used (proportion of balances to total credit limits on certain types of revolving accounts)
Proportion of installment loan amounts still owing (proportion of balance to original loan amount on certain types of installment loans)
Length of Credit History
Time since accounts opened
Time since accounts opened, by specific type of account
Time since account activity
New Credit
Number of recently opened accounts, and proportion of accounts that are recently opened, by type of account
Number of recent credit inquiries
Time since recent account opening(s), by type of account
Time since credit inquiry(s)
Re-establishment of positive credit history following past payment problems
Types of Credit Used
Number of (presence, prevalence, and recent information on) various types of accounts (credit cards, retail accounts, installment loans, mortgage, consumer finance accounts, etc.)
Please note that:
A FICO score takes into consideration all these categories of information, not just one or two.
No one piece of information or factor alone will determine your score.
The importance of any factor depends on the overall information in your credit report.
For some people, a given factor may be more important than for someone else with a different credit history. In addition, as the information in your credit report changes, so does the importance of any factor in determining your FICO score. Thus, it's impossible to say exactly how important any single factor is in determining your score - even the levels of importance shown here are for the general population, and will be different for different credit profiles. What's important is the mix of information, which varies from person to person, and for any one person over time.
Your FICO score only looks at information in your credit report.
However, lenders look at many things when making a credit decision including your income, how long you have worked at your present job and the kind of credit you are requesting.
Your score considers both positive and negative information in your credit report.
Late payments will lower your score, but establishing or re-establishing a good track record of making payments on time will raise your FICO credit score.
Do FICO scores change that much over time?
In general, FICO® scores do not change that much over time. But it's important to note that your FICO score is calculated each time it's requested; either by you or a lender. And each time it's calculated it's taking into consideration the information that is on your credit report at that time. So, as the information on your credit report changes, your FICO score can also change.
How much your FICO score changes from time to time is driven by a variety of factors such as:
Your current credit profile – how you have managed your credit to date will affect how a particular action may impact your score. For example, new information on your credit report, such as opening a new credit account, is more likely to have a larger impact for someone with a limited credit history as compared to someone with a very full credit history.
The change being reported – the "degree" of change being reported will have an impact. For example, if someone who usually pays bills on-time continues to do so (a positive action) then there will likely be only a small impact on their score one month later. On the other hand, if this same person files for bankruptcy or misses a payment, then there will most likely be a substantial impact on their score one month later.
How quickly information is updated – there is sometimes a lag between when you perform an action (like paying off your credit card balance in full) and when it is reported by the creditor to the credit bureau. It's only when the credit bureau has the updated information that it will have an affect on your FICO score.
Keep in mind:
Small changes in your score can be important if you're looking to obtain a certain FICO score level or if you are striving to reach a certain lender's FICO score "cutoff" (the point above which a lender would accept a new application for credit, but below which, the credit application would be denied).
Was this article helpful?
Why can't I see my credit report and FICO score update daily?
Your credit report and the associated FICO score do change regularly, but rarely on a daily basis. Lenders typically report updated account information to the credit bureaus every month, which may or may not result in a change to your FICO score. In a given three-month time period, only about one in four people has a 20-point change in their FICO score, so it's not that helpful to check your report and score on a daily basis. You can certainly purchase reports daily, but more often than not you will not see changes on a daily basis.
If you are interested in monitoring your credit report and FICO score for significant changes Score Watch may be a good fit for your needs. Score Watch monitors your Equifax credit report on a daily basis and sends
service

alerts via email or to your cell phone notifying you of
relevant changes to your Equifax credit report and/or FICO score.
To learn more about Score Watch, click here.
Credit Q&A
How long will negative information remain on my credit report?
It depends on the type of negative information. Here's the basic breakdown of how long different types of negative information will remain on your credit report:
Late payments: 7 years
Bankruptcies: 7 years for completed Chapter 13 bankruptcies and 10 years for Chapter 7 bankruptcies.
Foreclosures: 7 years
Collections: Generally, about 7 years, depending on the age of the debt being collected.
Public Record: Generally 7 years, although unpaid tax liens can remain indefinitely.
Keep in mind:
For all of these negative items, the older they are the less impact they are going to have on your FICO® score. For example, a collection that is 5 years old will hurt much less than a collection that is 5 months old.
Was this article helpful?
Resources
for this article are below:
http://ncfhaexpert.com/usda-loans/compensating-factors-for-usda-home-loan-approval/
http://homeguides.sfgate.com/minimum-credit-score-needed-buy-house-7410.html
Minimum Credit Score Needed to Buy a House in Kentucky and get a Mortgage backed by FHA, VA, USDA, Rural Housing Loans, Fannie Mae